November 21, 2013

December 02, 2013

December 16, 2013

December 19, 2013

January 06, 2014

January 08, 2014

February 05, 2014

February 15, 2014

February 24, 2014

June 04, 2014

IA Institute Newsletter - #7.07 2012
August 30, 2012 04:57 PM

The Information Architecture Institute (IAI) Newsletter features news about IAI and our partner's sites: Asis&t Bulletin, Boxes and Arrows, IxDA and Web & Electronic Indexing SIG. Also, there's a brief list of events with discounts for members and job postings at the end, so read on!
IN THIS ISSUE:
IAI News
The Topological Thinness of Summer Daisies
Free Library 2.0 Events
What's New With Our Partners
New IA Library Additions
Upcoming Conferences and Workshops
IAI Job Postings

IAI NEWS - http://iainstitute.org/news/

The Topological Thinness of Summer Daisies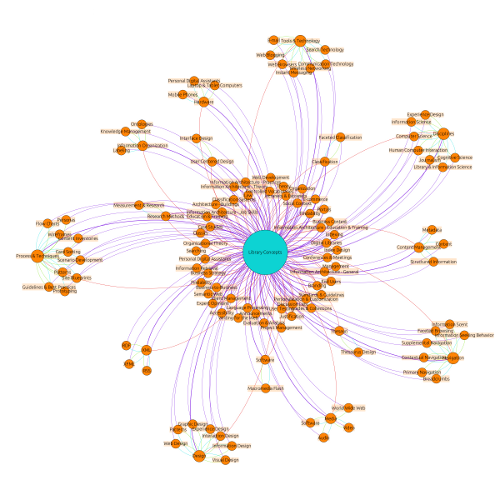 In these waning days of summer, we are happy to report solid progress from board member, Dorian Taylor, and his busy bee volunteers. Working from a particularly summery image, a daisy shaped concept map, which represents a set of concepts by which the IA resource library is organized, Dorian noted in his article, "The Topological Thinness of Summer Daisies,"
"As for the importance of this concept map, I intend for the IAI website to use it as a significant part of its backbone. The idea is eventually to get it to encompass the entire relevant set of concepts with which information architecture is concerned, and the semantic relations between them. By connecting information resources across the entire site to this concept map and similar structures, we can discover a much richer set of means to connect people with the information they're looking for than a conventional site hierarchy. I firmly believe that the use of complex semantic networks represents the future of information architecture, so it follows that the Information Architecture Institute practices it."
Read the full article: The Topological Thinness of Summer Daisies
For more summer fun, we remind you all that the Salary Survey is open. To participate, please visit our salary survey form at:
https://www.surveymonkey.com/s/2012-IA-Salary-Survey

Free Fall Library 2.0 Events
In its second year, the Library 2.012 conference is a unique chance to participate in a global conversation on the. current and future state of libraries. Held over the course of two days (three actual calendar days when including all time zones), there will likely be over 150 presentations. Subject strands include physical and virtual learning spaces, evolving professional roles in today's world, organizing and creating information, changing delivery methods, user-centered access, and mobile and geo social information environments. A full strand list is available at: http://www.library20.com/page/2-012-strands
Huge thanks to the School of Library and Information Science (SLIS) at San José State University, the founding conference sponsor!
Conference general information: http://www.library2012.com
Call for presentation proposals and instructions for Library 2.012: http://www.library20.com/page/call-for-proposals-2012
Celebrating it's third year, and co-chaired by the amazing Lucy Gray, this five-day, 24 hour per day incredible event brings together educators and students from around the world to discuss globally connected education, projects, and activities. It is designed to significantly increase opportunities for building education-related connections around the globe while supporting cultural awareness and recognition of diversity. Last year's conference featured 340 general sessions and 18 keynote addresses from all over the world with over 10,000 participant logins. This year the conference is being run in conjunction with the iEARN worldwide international conference and we're anticipating some 20 - 30,000 attendees.
Conference general information page: http://www. globaleducationconference.com/
Call for presentation proposals and instructions for Learning 2.0: http://www. globaleducationconference.com/page/2012-submission-instructions
Organizations interested in becoming sponsors of the conferences listed above, or of any of the Web 2.0 Labs projects, should email steve@hargadon.com directly.
Visit Library 2.0 at:
http://www.library20.com/? xg_source=msg_mes_network
Also:
Don't forget Web Visions Chicago starts 26 September 2012. Visit the IA Institute Member Center for discounts for many of our upcoming sponsored events.

*****
WHAT'S NEW WITH OUR PARTNERS? - http://iainstitute.org/en/about/partners.php
ASIS&T Bulletin - http://www.asis.org/bulletin.html
The Bulletin of the American Society for Information Science and Technology is a bi-monthly news magazine packed with developments and issues affecting the field, pragmatic management reports, opinion, and news of people and events in the information science community.
Current Issue
August/September 2012
Vol. 38, No. 6
Full Text: PDF (Size: 4mb)
The August/September 2012 issue of the ASIS&T bulletin is all about metrics, particularly bibliometrics and other methods used to describe quantitative studies that use scientific information, information phenomena, online data and non-traditional scientific data, respectively, to observe the creation, diffusion and interaction of information.The goals of this special issue are two-fold: to provide a history of some aspects of IS and ASIS&T using metric approaches, and to describe the past, present and future of metrics-related research.
Also, come to Euro IA Summit 2012, September 27-29, 2012, Rome, Italy. Join us for three incredible days of workshops, presentations, panels, and networking with information architects from across Europe and around the world. Gerry McGovern will give the opening keynote and Stephen P. Anderson is doing the closing plenary. IA Institute is proud to sponsor this annual event. Registration is now open.
***
Boxes and Arrows - http://www.boxesandarrows.com

The definitive source for the complex task of bringing architecture and design to the digital landscape.
Designing Screens Using Cores and Paths: Designing from the inside out by Jim Kalbach and Karen Lindemann (2012 Aug 20) If you can place your core offering firmly at the center of your design, then all other elements in the site help both the users and the business reach their goals. Kalbach and Lindemann show how the Core+Paths method keeps the design focused on your goals.
The Past and Future of Experience Design: What a difference 10 years make
by Nathan Shedroff (2012/06/18)

Once there was a big debate on: Is experience design about online and mobile interfaces or is it something more? Ten years later, not only is it part of our professional language, designers are exploring its potential, learning from everything from science fiction to behavioral psychology.
Flow, Mastery and Ease-of-Use
by Christina Wodtke (2012/06/07)
As the web design community explores using game design principles in our work, we must be aware of how and when they are appropriate. Christina Wodtke takes a closer look at two key principles, mastery and flow, and explains how we might use them in application design.
***
Interaction Design Association (IxDA) - http://www.ixda.org
The IxDA is a non-profit professional organization whose focus is promoting both the field of interaction design and the interests of an international community of practitioners, managers, educators, and students of interaction design.
Social impact. Social innovation: Interaction 13
Celebrate 10 years of interaction design and embark on a journey toward defining our role as guides through social interactions, digital and beyond. Inspire and be inspired at IxD13 and make an impact on the social fabric of your community, organization, and society.
Join us in Toronto January 27- February 1 for Interaction13!
Register at http://interaction13.ixda.org/registration/
General Registration and Call for Presenters is now open. Connect with the Interaction13 community on twitter @ixdconf or facebook at http://www.facebook.com/Interaction13 for more information and announcements leading up to IxD13!
Also, the 2013 Interaction Awards are now accepting submissions. If you are interested in submitting this year, here's your cue to start thinking about some of this year's examples of excellent interaction design. For inspiration, check out last year's winning projects, and the video profiles from last year's awards.
http://awards.ixda.org/

*****
NEW LIBRARY ADDITIONS - http://iainstitute.org/library/

The IA Library is a selection of resources related to the field of information architecture. The collection includes articles, books, blogs, translations and more. Each month, we will post the latest entries to the IA Library in this newsletter.
Books:
We are working on adding the full library of Rosenfeld Media books. In the meantime, please visit their website of their latest publications and feel free to suggest additions to our library:
The Mobile Frontier: A Guide for Designing Mobile Experiences
by Rachel Hinman (Rosenfeld Media, 2012 June)
Articles:
Creating a Web-Site Information Architecture
by Nathaniel Davis (UX Matters, 2012 August 06)
7 Frequently Asked Questions on Card Sorting
by Donna Spencer (UIE, 2012 June 13)
Keyword Classification: Understanding The "Why" Of SEO
by Shari Thurow (Search Engine Land, 2012 June 06)
Content Strategy — in 3D!
by Scott Smith (Boxes and Arrows, 2012 May 29)
Translations:
Italian:
Editoriale: Un Architetto dell'Informazione, in qualunque modo si faccia chiamare

by Eric Reiss (1/2011)
Original in English: Editorial: An Information Architect by any Other Name

Tools:
Core+Path Template This PDF outlines the Core+Path Methology described in the Boxes and Arrows article, Designing Screens Using Cores and Paths: Designing from the inside out by Jim Kalbach and Karen Lindemann (2012 Aug 20).

*****
UPCOMING CONFERENCES AND WORKSHOPS - http://www.iainstitute.org/calendar/
Some sponsored events offer discounts to IA Institute members. Please read descriptions carefully for instructions on discounts, if available. Visit our Member Center website for discount code.
20 September 2012 (start date)
TOGAF 9 and ArchiMate Foundation
8-Week Online Course
26-29 September 2012
Web Visions Chicago
Chicago, IL, USA
28-30 September 2012
Euro IA Summit
Rome, Italy
3-5 October 2012
Library 2.012

Free online conference
17-19 October 2012
Enterprise Search Summit Fall 2012
Washington, DC, USA
22-26 October 2012
Follow the UX Leader
Vancouver, BC
5-7 November 2012
User Interface 17 Conference
Boston, MA
12-16 November 2012
The Global Education Conference
FREE online conference
25-26 February 2013
2nd Annual Symposium on Communicating Complex Information (SCCI)
Greenville, NC, USA
To add your event to our calendar contact us at membership AT iainstitute DOT org.
IA Institute member discounts may be available for sponsored events. Visit the Member Center for details and disount codes.

*****
IAI JOB POSTINGS - http://www.iainstitute.org/jobboard/
The IAI Job Board lists job postings related to information architecture, as well as information design, interaction design, user experience and HCI.
Content Strategist - 8/23/12
Department of Homeland Security, Washington DC, DC USA
Manager, Interactive Designer - 8/23/12
American Express, New York, NY USA
Manager, Information Architect Job - 8/23/12
American Express, New York, NY USA
UX Architect - 8/22/12
Click Here / The Richards Group, Dallas, Texas/TX USA
User Interface Designer - 8/22/12
Creative Recruiter - Cogs Agency , London, GBR
Perm UX for a Branding Agency - 8/21/12
Creative recruiter - Cogs, London, UK GBR
Junior / Mid Digital UI Designer - London - 8/21/12
IC Creative - recruiter, London, GBR

*****

Newsletter archives can be found at http://iainstitute.org/news/cat_newsletter.php.

Comments about this newsletter? Questions? Things you would like to see included in future issues?
Contact feedback AT iainstitute DOT org
Thanks for reading and we'll be back with another newsletter in about a month!
***
Join the IA Institute and help build an international network sharing IA and UX related resources: http://iainstitute.org/join/
Syndicate this content
Recent Entries